This is a guest post by Janet of Going Crazy!! Wanna Go??!!
I have a strong admiration for Work at Home Moms (or WAHMs) that I cannot describe. I don't particularly care for being at home all of the time and I like to go, go, go. If I'm at home, I'm usually in my pajamas staring at the TV or sleeping.
Of course, I have to do housework and play with my boy and talk to my husband and all of that, but on those rare occasions when I have a day off and nobody else is home, you can find me in the bedroom or on the couch, all mushy-brained and watching a juicy soap opera. I seriously don't know how WAHMs do it.
A few days ago, Kecia wrote about whether WAHMs should consider childcare and although I have never been a WAHM, I had to weigh-in. I have strong feelings about childcare outside the home, after all, and since my comment there was so long, I thought this would be a great topic to guest post here.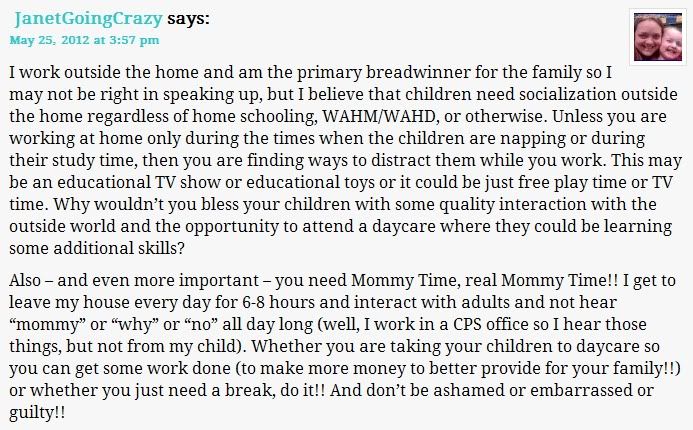 To put this topic in perspective, you have to consider what type of work the WAHM is doing and the amount of work that needs to be done.
---
Here are some other considerations:
Are you a Full-time WAHM who is responsible for the family's primary income or a large portion of the income? I have met many bloggers recently who tell me that their family depends solely on their blogging income to support the family. With this type of responsibility comes deadlines and scheduling issues that need to be considered. While you may be able to plan most of your time around your child's naptime, there is always that chance that baby will wake up, be stubborn and not take a nap, or just need that extra bit of cuddling that she is accustomed to on the days when you don't have a meeting.
Are you a part-time WAHM who contributes to the family income as a perk? This type of situation most likely has much more flexibility for those moments when baby needs extra care or you need to get the restless children out of the house for a change.
---
Some suggestions from a non-WAHM:
Why not hire a nanny or a part time mom-helper? Many moms who choose to work at home do so because they want to be available to their children for the extra bonding or time home with their children. They want their children to be raised in an intimate, loving environment and don't want to risk their children being treated as just another number. By hiring a nanny or helper, your child is getting an intimate, loving one-on-one experience that is likely the next best thing to having you all of the time. Typically, this solution might cost less than a daycare or preschool situation as well.
Find a Mom's Day Out program that you can trust. This may be a program specifically for Mom's Day Out or you could look for a daycare that has drop-in rates. This way you know the program is available when you need it and you don't have any obligations if you don't.
Start a WAHM/SAHM group and take turns giving a Mom a break. This one is my favorite. Find a group of moms who are all committed to the same priorities as you and develop a plan where moms get a break on a regular basis. Plan for half of the moms to have free days while the other half watch the children. This way when it's your turn to have a day off, you can choose to stay home and get some work done watch some juice soap operas or you can go out with the girls because they are childless for the day too!!
Hook up with Work at Home Moms on About.com for tons of ideas and support. I came across this while I was researching for this post and love it!!
---
Costs and Benefits:
With childcare always come costs and that is something you will have to evaluate for your family. However, think about the amount of work you can accomplish while you are juggling an infant, a toddler, and a bored 4 year old and how much income you generated.
Now think about two hours of uninterrupted time once per day and how much income you could generate. You may think that your earnings will not cover the cost of childcare for that amount of time, but if you can double or potentially triple your income with a small amount of quiet time, you could be doing your family an even bigger service.
What you also have to consider is the cost of your own health, both physical and mental, when you are home with the children all day, trying to work or staying up at night to work. Working at home and caring for your children, possibly adding in homeschooling or even caring for multiple age groups simultaneously, can wear even the best of the best of Super Moms down.
People are not as good at multitasking as we think we are and doing too many things at once can wear a brain down quickly. This will affect a mom's mind, emotions, energy…sanity!! Your work will suffer, your mind will suffer, your health will suffer, and your ultimate plan of the loving, intimate environment for your children will suffer.
---
Let me remind you that I am not a WAHM/SAHM and I don't forsee ever wanting to do that full time, but here is what I enjoy about my work. I leave the house for 6-8 hours every day and spend time with other adults in a positive environment. My son has gone to the same daycare for four years (since age 2 months) and he has learned way more than I even thought he was capable of by this age (meaning, I probably wouldn't have tried to teach him, doing him an injustice).
Every day when I pick him up, he runs to me and jumps in my arms and cannot stop talking about the fun and learning he did throughout his day. He loves his weekend time with his daddy and me, but he also loves his daycare teachers. I maintain my sanity (most of the time) and while I miss him during the day, I'm happy to have some "alone" time so that I have the opportunity to miss him.
For you, it may just mean one hour every day or two hours twice a week, but whatever works for you, take YOUR time. Give yourself the permission to take a break and give your child permission to spread their wings. Know that no matter what, if you are trying your best, you are doing all you can do!!
---
Janet is a full time work outside the home mommy of one fast and furious four year old. She rambles about life and stuff at GoingCrazy!! WannaGo??!! She also talks some about her passion, child safety, reviews family friendly products, and hosts giveaways.